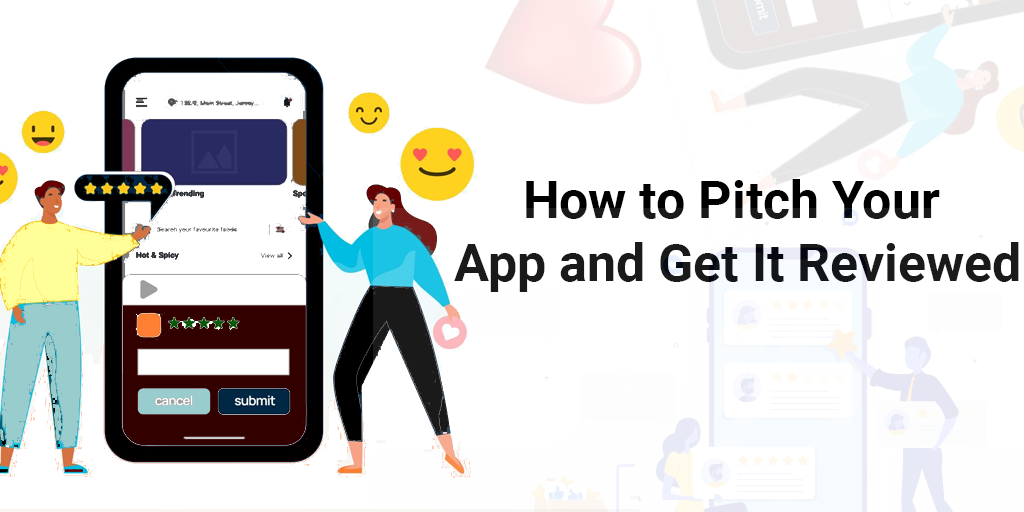 We experience that every app developer wants its app reviewed on familiar blogs, as it's going to be one of the top ways with promo campaigns to immensely gain a lot of exposure and get downloads. Let's discuss how does one get such a review? Well, if you're not one of the professional guys yet you need to ask for it. Also, you need to do it the right way.
What Are the Things you need to include?
We know that Bloggers are really busy and basically the idea of this email you send them is to comprise all the key elements about your app and why the blogger should even bother looking more into it.  You will find that numerous elements are the same as for a press release, which makes this email like a "short press release". These key elements are as follows
The name of your app exactly as it is spelled on the App Store
What it does, and why it is different
The price
One link to your product page (Your website)
One link to the iTunes product page and/or Google Play product page
One or two screenshots
A video (important!) 30 seconds to a minute.
A description in a concise paragraph. Say who your audience is, what your app does, what sets it apart from the crowd.
Contact information. An email and not a link to a contact form
Skype IDs, Twitter IDs, Linkedin
Apps review sites are another way to get an app reviewed is by submitting it to app review sites. These quality sites usually get a nice amount of organic traffic. Moreover, if you get your app to appear on multiple app review sites, this should bring you a decent audience.
In addition, they would increase the app viewability and the review will assist future users to primarily determine if the app is right for their requirements. More additionally another benefit is that you will probably get a backlink to your App Store or Google Play page. This might assist your app to get better search engine rankings.
The key thing is to you'll need to submit the app for review. If there is no option to submit the app directly, then contact the site's admins via email or a contact form.  Comprise the details like app description, App Store/Play Store URL, screenshots of the app, videos of the user experience. Moreover, professionally highlight your app's top features and explain to the person reading it why they should even take time and review your app.
Actively Do Your Research
The most vital step in the process of getting your app reviewed is absolutely researching the journalists you want to pitch. Thereby sending bulk emails to every blogger and tech reporter would guarantee your email is sent straight to the trash. So instead, take the time out to read their previous articles and perfectly gauge whether your app would be of interest to them.
So if they've written app reviews in the past, or seem to write about the industry your app is in regularly you'll have a good chance at landing a placement.
Go for Building Relationships
One must not underestimate the importance of networking. So when you're competing with many other developers to get your app reviewed, having some form of a prior good relationship with the person you're reaching out to can make all the massive difference.
It is better to use your existing network, actively reach out to people on LinkedIn and attend the major events in your industry. Even an insightful response on Twitter can greatly build the foundations of a relationship. Thereby having any relationship instantly improves your pitch above all the completely cold emails received.
Go the Extra Mile      
In case when it comes to getting reviews for your app, going the extra mile with your pitch is always a nice approach to take. One way to do this is to develop a video trailer for your app. The videos are more likely to grab the reviewer's attention since they're simpler to consume and more entertaining.
Moreover, it won't guarantee your pitch is successful, but it's one of the top ways to guarantee that your pitch is at the very least seen and if your app is genuinely great, getting the reviewer's initial attention is often the only difficult barrier between you and having your app featured on their quality blog.
Wrap Up
It results that combining the quality mobile app with an effective launch strategy that actively pitches your app is a great way to build some early traction. It's not simple, but having your app reviewed by some popular blogs will be worth the time investment.
Finally, if your business is looking for App Marketing, Digital Marketing Agency, Mobile App Reviews, SEO Services, Bitcoin Exchange Script, HYIP Script, Cryptocurrency Exchange Script, HYIP Software, Quality Content Management services don't hesitate to enlist extra help from GegoSoft.