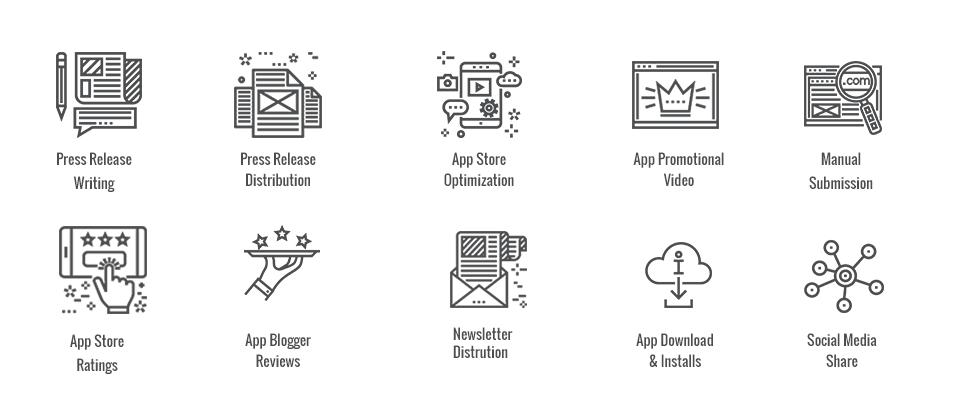 The Special Offers Packages Include:
1. A Professionally written Press release about your app.
2. Press Release Distribution to 100+ channels with guaranteed inclusion of Google News & Bing News.
3. Positive review writing by the professional writers (10 review articles )
4. Guaranteed review publication of your app on 10 websites
5. We will create a landing page website or Promotional Video for 60 Seconds.
6. App Store Rating and Reviews
6. App Installs (500) – Any One Platform (iOS or Android)
Frequently Asked Questions
About Offer
Why this service is so cheap ?
This is not a cheap service. This is competitively priced campaign targeting towards getting fresh leads and increasing the portfolio.
How long it will take to complete the mentioned tasks ?
It will take minimum 15 Days to Maximum 30 days to complete the mentioned 5 tasks include website building.
Is this offer available for Paid Apps ?
Yes, Offer available for FREE & PAID apps. For paid apps we request promo codes to process with.
Do you guarantee any Downloads ?
The campaign is to get Organic Downloads & Higher Ranking. To achieve this we use organic methods like Social Media Promotion, PR & Newsletters. This campaign do not include app boost campaign.
Do you offer Money Back Guarantee ?
Generally our package services, we offer 30 Days Money back guarantee. Being this is special campaign, we offer Money Back Guarantee, only if we not able to publish the review on time.
About ASO Service
Do you use Any ASO Tools ?
Yes, we use AppAnnie
What do you do for ASO ?
We do Competition Analysis, keyword research & rewrite your App Store / Google Play Description to get better ranking and more organic downloads.
What are the Deliverables ?
The deliverable include the App Title, App Description – write / rewrite, Competitive Analysis, Keyword Research Report.
About Promotional Video
What type of Video will be developed ?
A promotional video using the Screen Shots / Screen Recording and also by using textual slides
Is that web friendly ?
Yes, the Video will be .mp4 and you can use it any web.
Do you upload in YouTube ?
No, we deliver it as .mp4 file
About Review & Rating
What is Manual Submission ?
We have a list of 300+ websites which publish App Reviews. These sites have specific forms / contact forms, we manually submit your app details there. It helps you to get published in these sites.
Do you give us any report ?
Yes, We give the report as excel sheet & screenshots.
What about Guaranteed Reviews ?
Yes, we hope to get multiple publish of your app story. But still we guarantee 10 reviews minimum.
About Press Release
Do you provide report ?
Yes, we do provide you the Report with published links.
How many Press Release you write ?
Only one.
What are the Channels you use to Distribute ?
We distribute mainly through PRMac, Mobile Newswire, PR Buzz, PR Web, SB Wire, AP, Press Associates, Digital Journal, IB Times, MYPR Genie, Press Doc.
Do you send them to Journalists ?
Yes, we have 400+ Online Tech Journalist email database and send your PR to them.
How this PR Will help me ?
This PR Service helps you in getting you quality SEO back links, App Promotion, Your Brand Growth & will help you in exploring partnership opportunities and investor options.
Is this PR Service Guarantee inclusion in Google News & Bing News ?
Yes, with our methodology & experience, we guarantee you news will be syndicated in Google News + Bing News
I already launched the app way back ? How PR will help ?
You need to plan for Upgrade or some Fresh Story. Positively we can create a new story with a Fresh Website & the reviews we get in.
Do you write PR ?
Yes, we outsource PR writing to experienced journalist.
About Social Media
What is social media promotion ?
We promote you app store / google play link in Twitter, Google Plus, Facebook, Instagram, Pintrest
How many shares you do ?
We do about 100-300 share in Multiple Social Media Channels
Is this help me to get more downloads ?
Yes, this will help you to get more organic downloads
Do you do Paid Promotion ?
No, we do not do any Advert or Paid Promotions. If you wish we can help you in setting up keywords and demographics
About App Store Rating & Reviews
How did you get installs ?
We established a partnership with few app promotional service forums. They provide us the needful installs.
Is this available for Paid apps?
No, it's for Only FREE Apps
Is this safe ?
Yes, it's safe
Do you use paid install services ?
Yes, we do use Facebook Adwords, Google Adwords App Install and twitter ads to drive desired installs.
Communication & Reports
How do you communicate ?
We plan to use slack /skype/mail for the Project Communication
You promise lot of reports ? How do you share ?
We share all the reports in Slack / Mail. So you can easily track the updates
What are the project milestones ?
It depends on project. Once order received, we assign a dedicated Account Manager to the project and create a basecamp account. After discussing with client, we schedule the Tasks & Milestones. The typical process is
ASO
Website / Reviews
Getting Reviews
Updating the review in website
Creating the PR
PR Distribution
Social Media Marketing
App Installs & App Store Rating