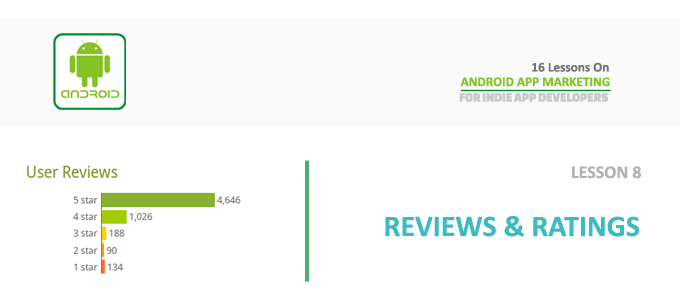 The reviews and ratings of your app are very important. It will help you better use android app marketing and help to improve your app.
Take time to read your reviews. This can help you find issues with the app such as bugs and glitches. It can also show what people do not like about it (takes too long to load, can't read text, new update isn't that great, etc). When you are thinking about an update it can be a good idea to look at your reviews too, as people often put what they would like to see done with the app. It's not a good idea to just do what everyone wants because it may not always be beneficial for you (make the app free, take away ads, etc.). Keeping up with reviews also shows what kind of people download your app.
Ratings of your app will help with your app make it to the top as long as the ratings are good. Keep track of where they are before and after an update. If you are getting mostly 3-4 stars on your ratings then after an update you get mostly 4-5 stars you know that this update has improved the app. If you continue to get 3-4 stars it was a good update but it did not effect the overall app. If you get 2-3 stars after an update then you know you did something wrong. Your ratings should never drop after an update because an update is supposed to improve or enhance an app for the users sake.
The better your reviews and ratings the further android app marketing will take your app, meaning there will be more and more people that will be interested in downloading it. Updates should be able to improve your reviews and ratings, and not lower them for any reason
Complete list of Android App Marketing Lessons