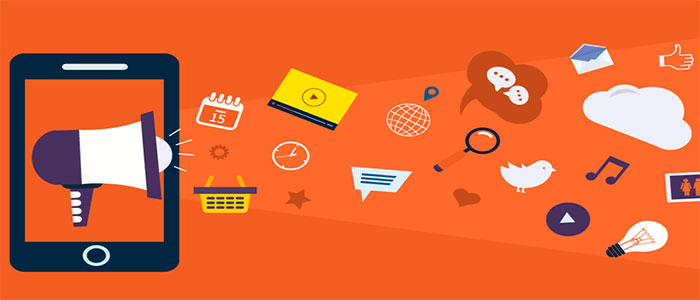 The on-going evolution of mobile apps continues to roll on. The apps move away from being standalone platforms and are professionally integrated into comprehensive mobile strategies.
Mobile's sensational impact has been recognized, and we have started to evaluate it as key part of the business. The firms with the most successful apps are the ones that are willing to put sincere resources into marketing their apps in order to get that mobile app into the hands of their prosperous customers.
Recent studies show the number of people using mobile surpassed those using desktop. The customers demand and expect a mobile app to be a major touch point between them and their favourite brands. More than 90% of the time spent on mobile devices is devoted to app use alone. However it is noticed that customers expect to shop and interact with brands in a mobile environment rather than other channels.
It is vital to note that app marketing is a whole new ball game and they require a new marketing approach. Some of the unique challenges facing marketers would be targeting problems, understanding downloads versus users, app store & Play store rankings, and much more. To assist you navigate the landscape of mobile app marketing, below given are app marketing strategies which are proven to be effective.
Strongly Focus on KPIs specific to the app's market
The goals must be specific, measurable, realistic, and so on. You need to direct your focus for the KPIs specific to app marketing. These comprise app store rankings, organic and loyal user acquisition, cost-per-download, and app store optimization. Appoint a dedicated team to focus on the significance and benefit of these KPIs in your marketing plan. Your app marketing goals must coincide with the goals of other marketing strategies. Always better to focus on those KPIs that are unique to app marketing.
Dedicate the resources to your app deserves
Studies enumerate that 80% of consumers wish to receive location-based alerts on their mobile phones. You can go for invest in a geo-fencing and push notification marketing strategies because it's what passionate consumers want. Your goal should be to maintain your app's visibility in key marketplaces year-round.
Better to Avoid getting pulled in too many directions
Aligning the goals of all different departments in a company might not be easy, but through on going communications and routine meetings with team members, you would stand a much better chance at hitting all of these different goals and minimizing struggles.
Partner your app marketing team with a mobile marketing expert
If partnering with a mobile marketing technology provider, you might wish to explore with the members of your team or any outside agencies that operate your app marketing campaigns. This would reduce of your budget and good chance at achieving an optimal rank among app stores
Market the experience and not the app
Today's consumers look for the simplest experiences offered by brands In fact, 86% of consumers are more likely to purchase when they are not overwhelmed with confusing details. The strategy of marketing the experience rather than the app has actually caused customer experience to become a front-running issue of businesses across nearly every industry.
Organically lifting your app to new high page ranks
The paid media buys would certainly give your app a boost in the rankings. The more downloads you get through your media placements, the higher your rank becomes in the app stores and thereby how visible it is to potential organic users. The best strategy to achieve organic lift is a burst campaign. Your goal is to achieve your app's optimal rank, which is actually reached by finding the best balances between ads spend; app store ranking and organic downloads.
Better to Test for tactfulness, not perfection
Measuring the success of app marketing strategies is different than measuring areas of traditional marketing for a few reasons. The best of today might not be the best tomorrow since there will most likely be a more efficient way to relay information just look at geo-fencing. Better to compare the old with the new and select those that serve your needs the best.