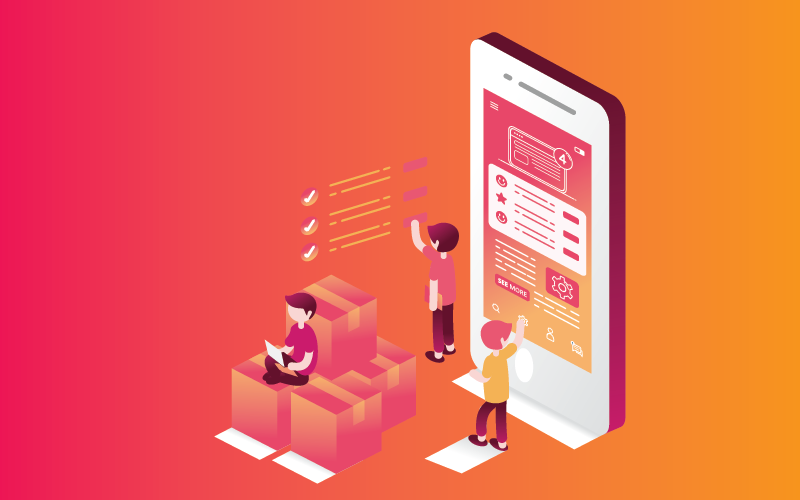 Every year, billions of people are using smartphones worldwide and that number keeps on growing. This opens up a massive opportunity for businesses to create and sell apps, making it a hugely competitive market.
With four million+ apps on Apple App Store and Google Play Stores, you need to have an effective marketing plan in place if you want your mobile app to be downloaded and used. Otherwise, you'll struggle to make it stand out among the competition.
What is App Store Optimization?
If you want to increase downloads and revenue, App Store Optimization (ASO) is the key. It's basically a process that optimizes your app so it shows more prominently in app store searches. Doing this can get you more visibility and help boost overall sales. ASO is like SEO, but for mobile apps. It's designed to help apps rank better in the app stores when people search for them. The higher the ranking, the more likely a person is to find and download your app. Basically, it ensures your app shows up at the top of the list when people search in an app store! It's super important to make sure your app appears high up on the search list cos that increases the likelihood of people downloading it. That's why you need to optimize it for the app store.
7 App Store Optimization Tips
1. Include Relevant Keywords
When it comes to app store optimization, start with figuring out the relevant keywords that would make your app easier to find when someone does a search. Keywords are basically words and phrases people type into the search bar when trying to find an app. Using the right keywords in the title, description, etc. can help give your app more visibility in the app store.
2. Optimize Your Title & Description
Titles and descriptions are the first impressions of your app, so it's essential to make sure they're optimized for the app store. Keep the titles concise and explanatory, and try to include relevant keywords if you can. The write-up should be comprehensive and give people an idea of what the app's about, and why they should use it. Remember to also add an element of urgency to get them to take action.
3. Include Compelling Icons & Screenshots
Optimizing icons and screenshots for the app store is really important. Your target users will check it out first, so make sure they look nice and are easy to remember. The icon should be neat while the screenshots should clearly show the features of your app.
4. Adding a video to an app's page on the store can be really useful
Adding videos can capture people's attention and make them excited about downloading. It's important to make sure the video is tailored for this purpose. Keep it short and focus on highlighting the key features of your app.
5. Check out the competition.
Doing some research will help you figure out which keywords to target, and give your app the best chance of being successful in the app store. To get ahead of your competition, you can use a research feature to find out which keywords are trending among the top-ranking apps and use them for optimizing your own app. Doing this can help you reach higher ranks as well.
6. Build Backlinks
Links from other websites to your app's page in the store are called backlinks. These links can help make your app more visible and increase download rates. So, it's definitely worth giving them a shot if you want to boost downloads. Backlinks are crucial for any website and it's important to ensure you're gaining backlinks from reliable sites that are relevant to your business. This will help you get the most out of them.
7. Drive Traffic (and Downloads) to Your App Store Page
Once you have an app up and running, the last step to ensure its success is to get people interested in it. You can do this by sharing it on social media, advertising it, or even collaborating with influencers and bloggers. This will help drive traffic (and downloads) to your app's page in the app store. It's clear to see that App Store Optimization (ASO) is essential when it comes to making sure mobile apps rank higher in the app store's search results. It can really help boost download numbers and thus generate more revenue for the app.
This article provides 7 essential steps to get your app more seen and downloaded in the app store. Be sure to read this if you're looking for ways to increase traffic and downloads for your app. To get your app ahead and increase downloads, there are certain steps you need to take. This includes using relevant keywords, coming up with an eye-catching title and description, adding icons/screenshots/video, analyzing other similar apps, getting backlinks for your app page as well as driving more traffic to the app store page. Here's how to get your app noticed and increase downloads in the app store – follow these 7 steps.
Don't expect to become an expert in ASO overnight, it takes time and effort.
Making an effort to work on your app store optimization checklist every day will definitely pay off in the end. You'll be amazed by how far you can go with just a few minutes of effort each day.
Once you see your app's traction improving, it's a great idea to look into paid ads to push it even further and get more out of App Store Optimization. This can help bolster your app's market position.