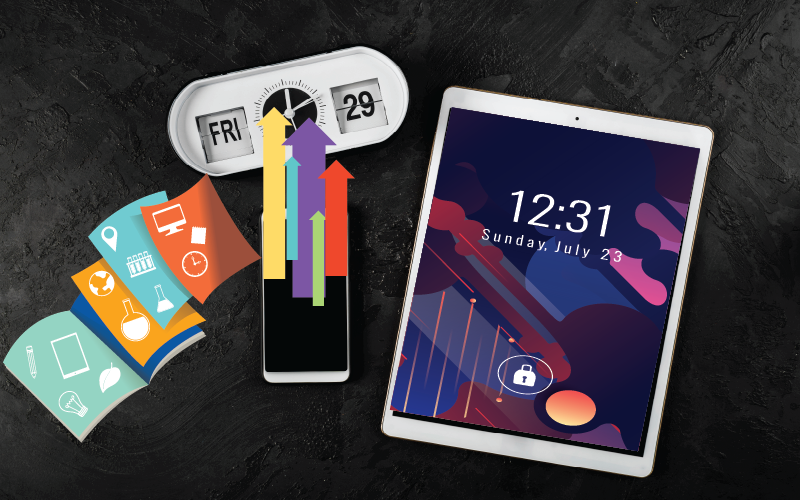 Mobile has surfaced as the "Best of All Time" and is regarded to be the go-to device of the future. As mobile keeps breaking records in every category, from TimeTime spent to revenue generated, the big screen is slowly dying. This is supported by App Annie's recently released State of Mobile 2022 report, which actually reveals that consumer spending on relevant mobile applications reached $170 billion in 2021.
The Following Are the Report's Main Points
Mobile-First Markets Primarily Spend ⅓ of Waking Hours on Mobile
The average for the top ten markets studied for this report surpassed 4 hours 48 minutes in 2021, which was 30% higher than in 2019. Mobile users in countries like South Korea, Indonesia, and Brazil spent more than 5 hours daily using mobile apps in 2021. In 2021, the average American spent 4.1 hours daily on their mobile phones, compared to 3.1 hours on TV.
Consumer Spending on relevant Mobile Apps Hits $170 Billion
Consumers are downloading more apps than ever before. In 2021, 230 billion apps were downloaded, and consumer spending wholly on mobile applications reached $170 billion, with an additional $43 billion added in 2021. This contributed to a 30% year-on-year growth as mobile gaming and in-app subscriptions became more popular.
Global markets drove download growth; with India alone accounting for nearly 27 billion app downloads by 2021. Many countries like Pakistan, Vietnam, Indonesia, Peru, Philippines, and Egypt were primarily among the fastest-growing markets for download at 25%, 25%, 25%, 20%, 15%, and 15% growth year-on-year, respectively.
Social, Photo, and Video Apps immensely Took Up 70% of TimeTime Spent on Mobile in 2021
With more TimeTime spent on mobile, consumers are also engaging deeper in early-mover categories like Social, Communication, and Photo & Video applications. Most of this Time was spent on social, photo, and video apps, which accounted for seven out of every ten minutes spent on mobile last year.
But although Photo & Video apps have seen a boom in market share of TimeTime spend, this has yet to come at the cost of current habits. Instead, consumers have converted their previously "non-mobile" Time into Time spent in apps and games.
Besides these categories, entertainment apps also appeal to Gen Z users, especially in the U.S. TikTok, Instagram, Netflix, and Snapchat were the most-used apps by Gen Z users in the U.S. On the other hand, millennials mostly preferred WhatsApp, Messenger, Facebook, and Amazon.
In 2021, There Will Be 2 Million New Apps and Games on the Market
Because of the 2 million other games and apps released in 2021, the total number of apps and games released on Google Play and iOS now stands at 21 million. Google Play makes up 77% of all apps and games released in 2021.
In 2021, games represented 15% of all new releases across both iOS and Google Play. The residual 85% of new apps span all app store categories, from mobile-first movers such as social media to mobile-forced niches such as insurance and health care.
In 2021, 233 Apps and Games Earned More Than $100 Million
In 2021, 233 applications and games generated more than $100 million in consumer spending. Thirteen of these exceeded the $1 billion mark. This represents a 20% increase over the 2020 figure, when only 193 games and apps reached the $100 million mark, with only 8 of these crossing the $1 billion mark.
Gen Z Is the First Generation to Use Mobile Social Media and Video
Apps in classifications currently highly relevant to Gen Z, such as Social, Photo & Video, and Entertainment can be ideal partners in helping you increase engagement. Although finance and shopping apps have yet to gain traction with a broad Gen Z audience, these categories have seen solid year-on-year growth and represent a promising area for investment. These classifications are more Millennial-focused.
Final Thoughts
Mobile has unquestionably emerged as the most effective platform for increasing user engagement. Through its considerable power of disruption, it has outperformed every traditional marketing medium. The research results of App Annie's State of Mobile 2022 Report provide ample evidence of this. Consequently, it is now up to the marketers to leverage this report's findings to their advantage and drive customer engagement.