We Promote your App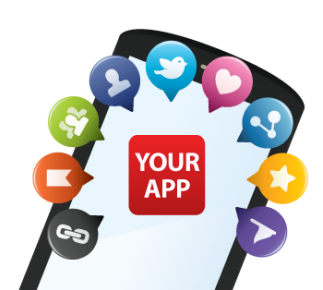 Android | Iphone Mobile App Marketing
Increase your app downloads and sales with app marketing services from AppMarketingPlus
App Marketing Plus  is a Professional app marketing and PR agency. We serve for Mobile App Development  Companies and help them to increase no. of download of their apps. We specialize in promotional / marketing activities in the iOS App Store, Mac App Store, Google Play market and Amazon App Store. Our talented team of professionals possess the skills to expose, brand, and market your products in an effective manner.
We offer the opportunity to easily market developer's products directly to their target audiences in the areas of public relations, product placement, marketing plans and promotional strategies. We offer highly effective marketing services that can greatly increase your app's media visibility and media publicity levels. To experience marketing at the highest level, promote your iPhone/iPad/Mac and Android application on the App Store and Google Play market with us and let us take care of all your marketing needs.
Free App Marketing Consultancy & Quote
Please submit a Simple Form and our expert team will come back to you with a proposal that best suited for your app & budget
Get Instant Exposure, High Visibility, More Downloads & More Sales - For Your App
App Launch Services
We help our clients to launch the App their app in an efficient way. We help you to publish your app launch info to 300+ targeted PR networks & more than 600 App Review sites & blogs.

App Store Optimization
With our skills & experience, we'll help you to place your app in right category with right title, right description and keywords. This will help you to increase your downloads

Press Release  & App Reviews
We help you to reach many app review sites and get your reviewed and published in high traffic app review portals
App Marketing DIY Kit
We developed a specialized marketing kit with needful Tools & Templates. Our Tools will help you to speed up your development & launch.
Our Professional Services
App Pre-launch Services

App Launch Services

App Store Optimization

App Submission to PR Sites

App Submission to Review Sites

App Promotion Via Twitter

App Promotion Via Facebook

App Promotional Strategy & Consulting

App Promotional Website Design & Development

App Promotional Mailer

App Promotional Kit Design

App Advertising

App Cross-Selling & Up-Selling

App Promo Code Distribution
Our Skills
App Marketing

85%

App Store Optimization

90%

Social Media Promotion

90%

Press Release

90%

Submit to App Review Sites

90%

App Website Design

95%